JAN MAYEN - SEISMOPUNKT "ULLA" (JNE)

OPPGRADERING AV SEISMOPUNKT "ULLA" 2018



UNIVERSITETET I BERGEN
Institutt for geovitenskap
Allé gt. 41, 5007 Bergen, Norge

0.1

UTKAST - for kommenterer

-

9. april 2018

OM

OM

-

VER.
STATUS
ENDRING
DATO
AV
KONTROLL
GODKJENT
INNHOLD
1 OVERSIKT
---
I 2018 ser vi på muligheten for følgende oppgraderinger av seismopunkt "ULLA" (JNE):
Nu sensor og digitizer
Ny instrumentkontainer
Ny vindgenerator
Nye solpanel
Nytt telemetrisystem
| | |
| --- | --- |
| Seismopunkt ULLA, Jan Mayen, ved inspeksjon 2012. Klikk for større bilde. | Seismopunkt ULLA, Jan Mayen, ved inspeksjon 2012. Klikk for større bilde. |
2 IDÉER TIL LØSNINGER
---
Klikk for å se fotoalbum som presenterer noen alternativer for mast / el.skap.
Kilde: http://www.unavco.org/projects/project-support/polar/remote/remote.html -- solpanel samt 2 stk V30 Antarctic Microturbine gir energi.
3 ALTERNATIV A: SHELTER AV SANDWICH-KONSTRUKSJON (SOM NÅVÆRENDE)
---
PRESENTASJON FRA http://www.tam.no/pdf/sheltes-2014-01_small.pdf
TAM - Bardufoss, fabrikanten som lagde nåværende Ulla & Liberg-shelters.
4 ALTERNATIV B: INSTRUMENTKONTAINER 6 FOT
---
| | |
| --- | --- |
| | Uniteam kontainer. Klikk for produktbrosjyre. |
4.1 Mulige leverandører
---
4.2 Tekniske standarder
---
NORSOK standard Z-015 NB: Offshore relatert
Overflatebehandling: NORSOK M-501 "Surface preparation and protective coating"
Eksempel på OSHA standard. Kilde.
4.3 Tilpasninger
---
Erstatte dobbeltdør med hel vegg. Montere Personaldør i stedet.
Kabelgjennomføring i gulv. Sveise inn firkant-ramme med Brattberg eller Roxtec gjennomføringer.
Innvendig: Vegghengt rack. Kabelstiger.
Innvendig: Har dere forslag til hvordan kondensasjon kan forhindres? Stormventiler? Innvendig isolasjon av vegger og tak? Vi kan la overskuddsenergi fra vindgenerator drive ovn (men det blir ikke så mye effekt, kanskje 50 Watt i gjennomsnitt).
Utvendig: Festebrakett for stige (eventuelt fastmontert aluminiumsstige).
En form for rekkverk på taket, eller festebraketter slik at rekkverk kan monteres på stedet.
I det ene utvendige hjørnet: Festebraketter for Ø50mm aluminiumsrør hvor vindgenerator kan plasseres. Dette røret må kunne stages mot to andre takhjørner, dvs det må være festebraketter for disse to stagene.
I det diagonalt motsatte hjørnet: Tilsvarende festebraketter for Ø50mm aluminiumsrør. På dette røret kommer det tre antenner. Trenger ikke staging her.
På ene yttervegg: Braketter for feste av ramme for solpaneler.
Bardunfester i alle takhjørner. (Alt på den øya må beregnes for 40 sekundmeter vind, et stykke over orkan. Bladene på vindgenerator må f.eks. kuttes til halv lengde, for å kunne overleve).
Egen profilering (logo).
Farge etter ønske (RAL).
Er klar over at det finnes ulike standarder for overflatebehandling av kontainere (f.eks. som nevnt i NORSOK Standard M-501), men vi har ingen erfaring med valgmuligheter. Vennligst gi råd for å kunne sikre lang levetid på installasjonen.
LED 12V lys i taket
4.4 Kabelstiger, underlag for feste av instrumentering på vegg
---
Link til Øglænd kabelstiger og tilhørende utstyr: http://www.oglaend-system.com/selektor/
Kanskje noe av dette (i rustfri utførelse) kunne vært underlag for feste av instrumentering på vegg.
Et alternativ er en rack-løsning. Det er kanskje det letteste nå det gjelder montasje og service av instrumenteringen.
5 ALTERNATIV C: EL.SKAP MONTERT PÅ LATTIX GITTERMAST
---
5.1 Lattix gittermast
---
5.2 Valg av fundamentbolter
---
Vi ønsker meget lang levetid på fundamentboltene - mer enn 100 år. De må være laget av rustfritt, syrefast stål i A4-kvalitet. Lattix benyttter BUMAX 109.
Norsk forhandler av BUMAX bolter:
  Bufab Norge
  Trommedalsvägen 273
  3735 Skien
  Tel: +47 (0)81 55 85 48
  Fax: +47 (0)35 91 40 71
  Email: bn.sales@bufab.com

5.3 SATEMA Alu-skap
---
Dobbeltvegget El.skap av sjøvannsbestandig aluminium: SATEMA modell DVA 08-1000/400×1200 - mål: 1000x1200x400mm (BxHxD) Inkl. montasjeplate.
5.4 Montasje av Lattix mast
---
Lattix mast, fjellfundament, hentet fra Montasjebeskrivelse for Lattix skiltmaster type: 4412, 4420, 4425 og 4438.
Bolter:
http://www.vikorsta.no/Produkter/Bergsikring/Sikringsbolt/Kamstalbolter/Kamstalbolt-M24/
5.5 Eksempler på bruk av Lattix gittermaster
---
Bilder hentet fra LATTIX.NET webside.
5.6 Eksempler på bruk av Lattix gittermaster, fra Power Controls
---
''Kilde: Power Controls
5.7 Detalj fra hengsling i fotplate
---
Galvanisert (120 um tykkelse). Denne står på Bjørnøya. Lattix har sluttet å produsere triangelmaster, hvor hjørnene er sammenføyd med klem-teknikk - dagens firkant-profil ekstruderes.
Klikk for større versjon.
5.8 Fundament for Lattix gittermast
---
6 ENERGIFORSYNING
---
6.1 Mulige vindgeneratorer
---
Station "JMIN", Nord-Jan, 2005, power system.
Bilder fra produktside: V30 Antarctic Microturbine:
6.2 Solenergi
---
6.2.1 Solpaneler
---
6.2.2 Regulator
---
Morningstar PWM or MPPT controllers depending on the requirements. Anbefaling
6.2.3 Noen vi kunne samarbeidet med
---
6.3 Batterier
---
Nå:
3 stk i parallell
12 V, 120 Ah
L*B*H = 349 x 175 x 290 mm
Vekt hvert batteri: 38 kg
6.4 Tips fra andre
---
6.5 Vindforhold
---
7 RADIO TELEMETRY LINK, ULLA AND LIBERG TO "MONITORHYTTA"
---
Click to enlarge:
Location of JNE (Ulla), JNW (Liberg) and Monitorhytta (TCP/IP site), to verify Line-of-sight conditions. Map source: Norsk Polarinstitutt. Click to enlarge.
7.1 Considerations on selecting a new telemetry system
---
The existing radio links to Ulla and Liberg use a vintage Monitron VHF transmitter/receiver pair, operating as radio front end of Sprengnether PTS equipment.
There are several considerations when selecting a new digital radio telemetry system:
What frequency band? VHF, UHF-900 MHz, or UHF-2.4 GHz?

VHF is tried and tested. UofB is leasing a dedicated frequency in the VHF band (154.875 MHz), and it could be used.
UHF-900 MHz: There are licensing issues with regard to upper level transmitting power (measured on antenna) and frequency band that is permitted. Frequency hopping seems also to be questionable. There should also be line of sight between JNE/Ulla antenna mast and mast outside seismology control room in Olonkin City. There are also reports (unverified? - must check) that large earthquakes can be preceded and accompanied by radio emissions in the UHF band, disrupting UHF based telemetry system when they are most needed.
UHF-2.4 GHz: Unlicensed. Line of sight required. Accurate link budgeting necessary. Trade-off between power and use of high-gain directive antennas - taking severe wind conditions (possibly altering antenna alignment) and limitations on available power.

Increased power consumption could necessitate redesign of current wind generator/solar panel system on JNE. Estimated average current consumption on JNE/Ulla (PTS and VHF radio transmitter combined) is 300 mA @ 12 V. However, we need to measure actual current consumption during service visit. Due to extreme wind conditions the 6-bladed wind mill is reduced to 3 blades; in addition, the length of remaining blades are reduced by half in order to increase survival rate of windmill. We do not know the contribution or the nominal capacity (wattage) of the solar panel.
7.2 Manufacturers / Suppliers
---
8 TELEMETRISYSTEM - RF "Spredt Spektrum" radio - ALTERNATIVER
---
8.1 Regler om frekvensbruk
---
8.2 Freewave
---
8.2.1 FGR2PLUS SERIES
---
8.2.2 Zumlink 900-series
---
http://www.freewave.com/products/zumlink-900-series/
8.2.3 Mulige antenner
---
:
6 dBi gain: Larsen YA6-900 EAN0906YA: https://www.tessco.com/products/displayProductInfo.do?sku=57677
6 dBi gain: Bluewave BMY890G5502N4 EAN0906YC
10 dBi gain: Bluewave BMY890K5502N4 EAN0900YC
Mfr: Mfr: WaveLink
Model: PRO890-8-40F02N4 (recommended by FreeWave)
Suppliers:
Specifications:

Operating Frequency (VSWR ≤ 1.5) MHz: 890-960
Nominal Gain (dBi): 8.6
Rated Wind Velocity (mph): 125 = 55.9 m/s
Rated Wind Velocity with 1/2'' radical (mph): 120 = 53.6 m/s
8.3 Ubiquiti Networks: "BulletM"
---
https://www.ubnt.com/airmax/bulletm/ looks very interesting, it plugs directly into antenna (hence no need for long coax cable), using PoE ("Power over Ethernet"). Of course, a switch is needed elsewhere to collect all data streams.
Supplier:
PoE/power adapter separat (art nr UBI-PoE15).
8.4 Afar Communications
---
8.5 Nanostation M2 (www.ubnt.com)
---
8.6 Satel
---
8.7 Eksisterende link mellom basen og Monitorhytta (for JMIC)
---
Den gamle linken basert på FreeWave model FGR-115RE Ethernet Bridge er faset ut. Forbindelsen er nå via ny link som ble installert for en tid siden, som også bærer annen kommunikasjon til telemetripunkt på Danielsenkrateret.
9 GEODETISK GNSS MOTTAKER
---
9.1 Trimble "NetR9"
---
| | |
| --- | --- |
| Front | Rear view |
Manufacturer
Trimble
Model
NetR9
Receiver options
Ti-1 (used by geodetic GNSS division at Norw. Mapping Authority)
User Manual
PDF (2.2 MByte)
Dimensions
DxWxH = 26.5 x 13.0 x 5.5 cm
Power supply
Operating temperature, humidity

-40°C to +65°C (note details about internal Li battery)
100% condensing
9.2 Antenne for geodetisk GNSS-mottaker
---
| | |
| --- | --- |
| | Image source: Norwegian Mapping Authority. |
| | |
| --- | --- |
| Manufacturer | Trimble |
| Model | GNSS-Ti Choke w/SCIS Dome, ref "GNSS-Ti Choke Ring" |
| Brochure | PDF |
| Operating temperature | –55 ˚C to +85 ˚C |
| External radome | Trimble P/N: 59314 available/recommended |
| Dimensions | 38 cm diameter x 14 cm height |
| Mounting thread | 5/8"–11 Female |
9.3 "Dome" for antenne
---
| | |
| --- | --- |
| Bilde: Kartverket. | Bilde: Kartverket. |
9.4 Fundament for antenne
---
http://kb.unavco.org/kb/article/polar-mast-overview-326.html
9.5 Koaks-kabel mellom GNSS-antenne og -mottaker
---
Informasjon fra Trimble NetR9 User Manual, s. 28.
CellFlex, LCF12-50J, 100 meters lengde: Ref.: http://www.holmefjord.no/productDetails.aspx?pId=21714&cId=1691 - denne forhandleren har også passende N-konnektorer.
9.6 Valg av antennelokasjon
---
Dette er omtalt på side 27 og 28 i Trimble NetR9 "User Manual" (PDF).
I nevnte manual er det også henvisning til denne grundige beskrivelsen: "Guidelines for New and Existing Continuously Operating Reference Stations", utgitt av National Geodetic Survey, januar 2013.
10 SEISMOMETER (JORDSKJELVMÅLER)
---
Nanometrics seismometer mod Trillium 120QA.
10.1 Kan vi bruke samme sensorbrønn som nå?
---
Dagens sensorbrønn ser slik ut.
Indre diameter av røret som dagens sensor er montert i, er 31.8 cm. (Mål tatt på sensorpunkt JMI/Trolldalen, men mest sannsynlig er det brukt identisk rørdimensjon på sensorpunkt Ulla og Liberg.)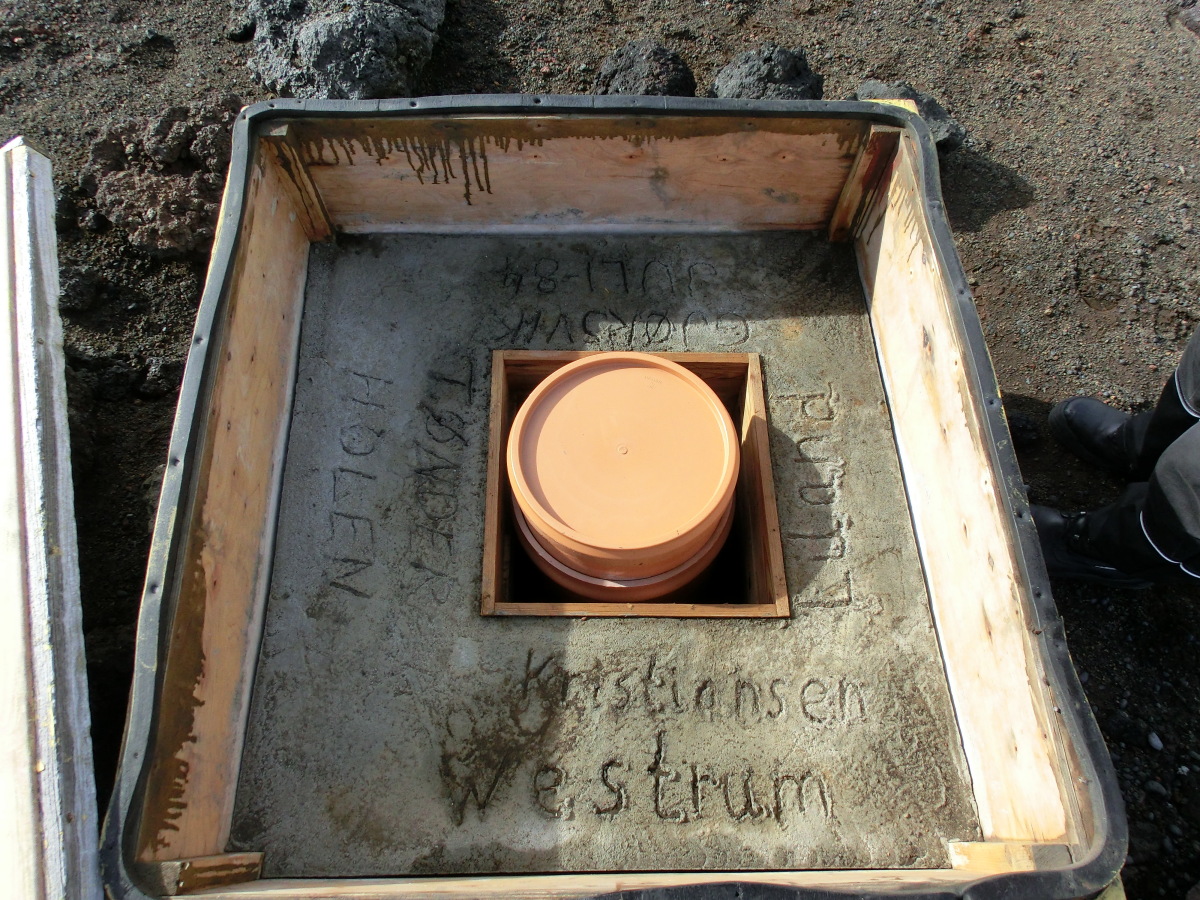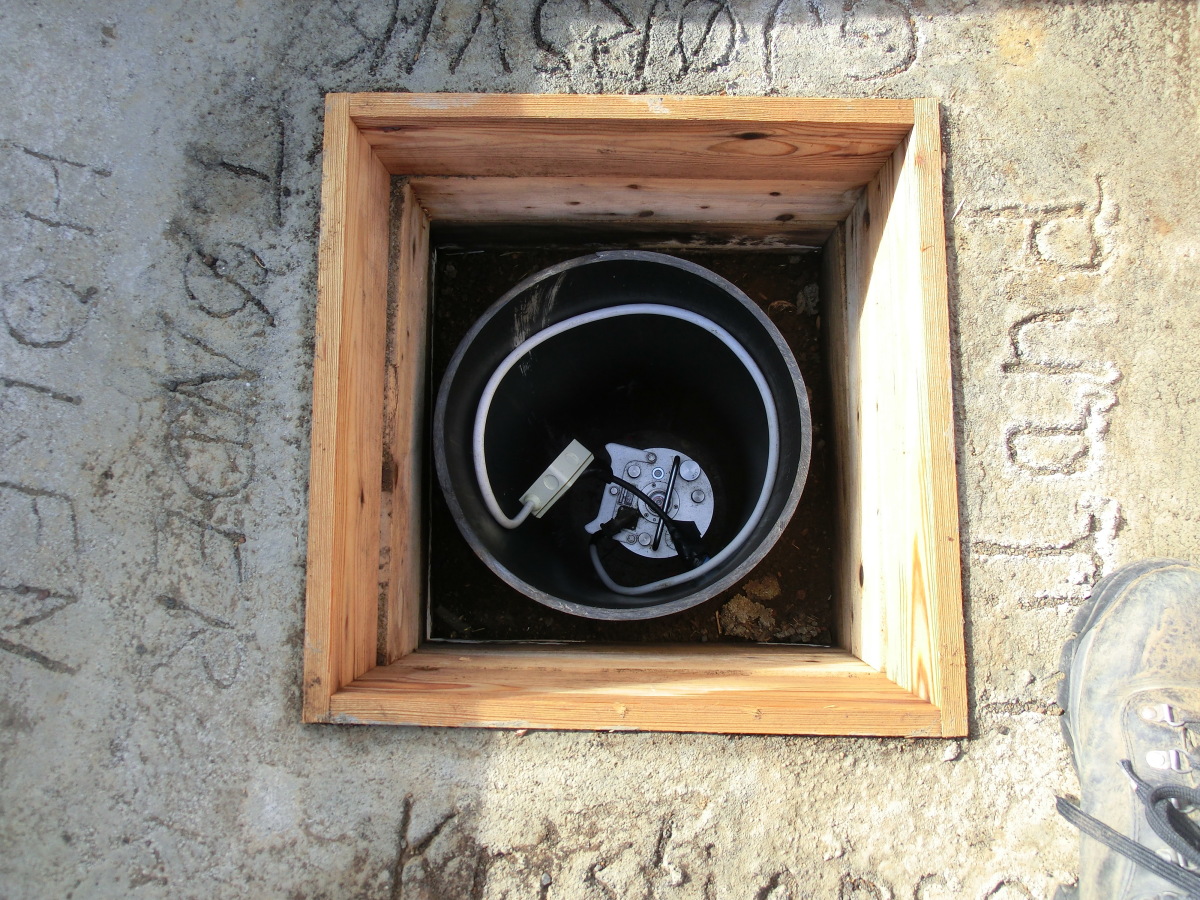 11 "DIGITIZER" (A/D-KONVERTER) FOR ANALOGE SENSORSIGNALER
---
12 JORDING
---
13 LINKER
---
:
GLISN Poster: The Greenland Ice Monitoring Network - click to enlarge. Link to original PDF file.
:
:
:
:
http://aon.iab.uaf.edu/imnavait
http://aon.iab.uaf.edu/imnavait
http://aon.iab.uaf.edu/imnavait
Quote from http://aon.iab.uaf.edu/imnavait :
"The power systems were designed by Polar Field Services and supplied by ABS Alaskan. These systems were initially installed at both the Ridge and the Fen stations in 2007, and added to the Tussock site in 2012. Each system consists of a wind generator, solar panels, a large battery array for power storage, and various charge controllers and monitoring devices. At the communications hub, a small methanol fuel cell is used in conjuction with solar and wind power to provide power for satellite data transmission."
13.1 Power: Wind generators
---
Vertical wind generators - mfr: PROLECTRIC - Forgen
MARLEC:
13.2 NVE network of water level sensors
---
13.3 Annet
---
13.4 Antennemaster
---